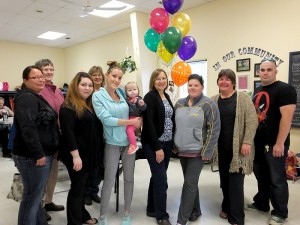 ValleyBiz Story |
On Wednesday, September 16, 2015 Association for Community Living – Swan River Branch (ACL) honored direct support staff during a celebration that included cake, refreshments and the presentation of a heartfelt token of gratitude to each.
Above: ACL Direct Support Professionals attend the come-and-go event.
Click any picture for a larger version.
The event took place during Direct Support Professionals Week and was held in acknowledgement of the valuable services that direct support professionals provide. "They are the foundation of support and services that people with disabilities depend on." emphasized Carla Dixon, Services Coordinator, with ACL Swan River.
ACL employs 50 Direct Support Professionals who work at the Resource Centre and in 6 homes located in Swan River. All were invited to stop by the ACL Resource Centre throughout the morning to attend the event.
Above: John Christensen, ACL Swan River President, cuts the cake imprinted with the names of all 50 Direct Support Staff.
A Proclamation was issued by by Kerri Irvin-Ross, Minister of Family Services declaring the week of September 13 – 19, 2015 "Direct Support Professionals Week" in Manitoba .