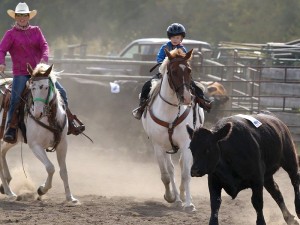 Submitted by:
Michelle Buck |
The Blue Sky Team Penning Club of Benito, MB closed out their 2015 season with a trail ride and team penning jackpot on the weekend of September 12 and 13, 2015.

Pictured above: Carmi and Trey Hrabarchuk – photo by Sharon Foster
Click any picture for a larger version.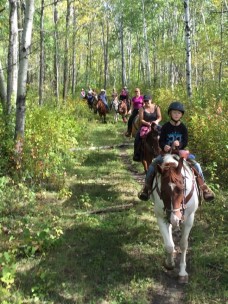 Twenty-one people attended the 10 mile ride on Saturday which included a wiener roast at the half way point and concluded with a potluck supper at the Blue Sky Arena.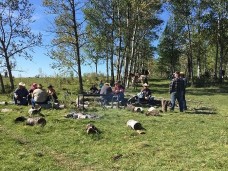 The fall jackpot followed on Sunday with 58 teams in the Open class and 7 in the Youth class. Spectators enjoyed the view from our new bleachers which were built with support from two of our sponsors, Grazier Custom Manufacturing Ltd and Spruce Products Ltd. An equally big hit was the new play area for the kids, which kept them and their parents happy. A big thanks to Les Englot for the sand and to the club members who donated the toys.


Jessie Foster, Morgan Buck and Carmi Hrabarchuk
Photo by Kim McCullough
Team Cattle Penning is a timed event in which three riders must pull 3 like numbered cows from a herd and put them in a pen at the opposite end of the arena. That's the simple explanation. It requires coordination, communication, and luck!

Morgan Buck
Photos by Carmi Hrabarchuk

Denny Langevin
Although teams may have up to 95 seconds to pen their cattle, the reality is that if you are taking that long, you aren't winning anything. Each team has two runs, with both times combined for an overall time. One of the biggest appeals of this sport is that anyone can enter, and this weekend saw a few new faces who cheerfully admitted they had never done this before.

Families can ride together, and its common to see young children competing with mom and dad and taking home a cheque.
The placings for this year's fall jackpot: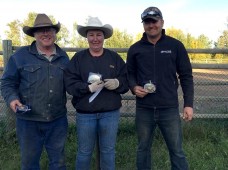 A side – 6 cattle penned
1st place and the buckles went to Stan Foster, Angela Mullin and Andy Suchoplas with a time of 67.86 seconds. (pictured left)
2nd – Michelle Buck, Brian Hunter and Annie Kabatoff, 71.22 seconds
3rd – Gerry Peesker, Kim Kindiak, and Mark Fraser, 71.51 seconds
4th – Carmi Hrabarchuk, Jodi Suchoplas, and Andy Suchoplas, 74.19 seconds
5th – Brian Hunter, Gerry Peesker, Kim Kindiak, 74.55
6th – Robert Gamache, Melanie McArthur, and Mark Fraser, 76.62 seconds
7th – Jessie Foster, Brenda Foster and Morgan Buck, 84.0 seconds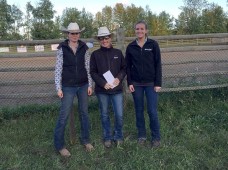 B side – 3 cattle penned
1st – Morgan Buck, Carmi Hrabarchuk, Jessie Foster, 37.4 seconds
2nd – Jessie Foster, Stan Foster, Mark Fraser, 41.37 seconds

Youth Event

1st – Ryder & Caelan,
6 cattle,
2:34:30

2nd – Kreece & Dax,
5 cattle,
2:08:88

3rd – Trey & Jenna,
3 cattle,
1:19:25
Members Only – 3 cattle penned
1st – Stan Foster, Dennis Highmoor, and Annie Kabatoff, 32.28 seconds
Fastest single run of the day:
28.28 seconds – Jessie Foster, Brenda Foster and Morgan Buck
Slowest run of the day (the time was mysteriously left off of the list given to me):
Kreece and Carmi Hrabarchuk and Sharon Foster
This year we had a record number of sponsors and donations that we are extremely thankful for. We were very touched by the generosity of the area businesses who supported us.
Gold Sponsor – $500
Rough Country Sports
Silver Sponsors – $300
Rod Blosha of Pioneer Feeds
Benito Premium Meats
Swan Valley Consumers Co-Op Ltd
TJ Schullman of GSPS Services
Bronze sponsors – $100
Dufresne Furniture and Appliance
Cement Works Inc
Cook & Cooke Financial and Insurance
Redline Chrysler
Harness Trucking
Formo Motors Ltd
OK Tire & Auto Service
Key Chev Olds
Swan Wood Shavings Inc
Benito Home Centre Inc
Benito Foods
Swan Valley Credit Union
Benito Health Plus
Swan Valley Dental Centre
Swan Valley Veterinary Clinic
Buckle sponsors –
Doak's Bulk Fuel
Riddell's Plumbing & Heating Ltd
McKay Real Estate & Auction Co
Door Prize sponsors
NAPA
MNP
WS Schneider ($50)
KalTire
Merv's Audiotronic
Super 8
Thanks also goes out to Barry Golay for running the gate as well as for the the donation of the tin for the roof on the bleachers, Janie Galloway for sitting this one out and doing the announcing, Sherry Peesker for agreeing to be our event judge, Shirley Peesker and Cindy Koreluik for running the stop watches, and Colleen Langevin for chili and burgers, and really, really good puffed wheat cake.
Without everyone above, this event just couldn't happen.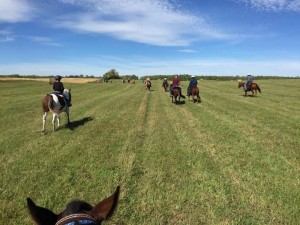 Thank you again for your helping hands and financial support!
Don't forget – the Kamsack Team Penning Club has their jackpot this weekend, Saturday, September 19th. Deadline for entries is Thursday, September 17 at 9 pm, call Kim at 306-542-7458, or Sharon at 204-281-8176.