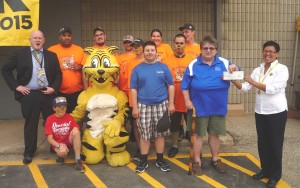 Submitted by:
Shirley Todosichuk |
Giant Tiger Owner/Store Manager Cecile Bayona and Giant Tiger Regional Support Manager Chris Beblow presented Special Olympics Manitoba Parkland Region with a $700 donation on August 29, 2015 at the Giant Tiger Grand Opening in Swan River.
Parkland athletes, including Darren Boryskavich (front row, third from right) from Russell, who will be representing the Parkland Region and Manitoba in Snowshoeing at the 2016 Special Olympics Canada Winter Games in Corner Brook, Nfld in February and Special Olympic volunteers were excited to accept the cheque for Special O.
Giant Tiger also generously donated all of the supplies for our hotdog sale. At the end of the day Special Olympics Parkland Region received/raised over $1700.00. A Big Thank You to Giant Tiger and everyone who supported our athletes!