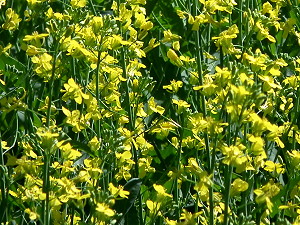 Northwest Region Crop Report Prepared by: Manitoba Agriculture, Food and Rural Development July 13, 2015 |
Northwest Region
Scattered showers throughout most of the Northwest Region midweek and again over the weekend resulted in rainfall amounts ranging from 12 to 64 mm in the Roblin and Swan River areas. The rain was very welcome and will help for grain fill, as well as the late seeded and reseeded canola. Warm temperatures have also advanced crops along rapidly. Overall, crops are in good to fair condition in the Northwest Region; The Pas is the only area reporting some wheat and canola in excellent condition.
For winter wheat, 75% of the crop is in the dough stage. Maturity on spring cereal crops ranges with 40 to 60% heading out and 20 to 50% in the milk stage. Cereal growth in some fields is stunted due to dry conditions and moisture is needed for grain fill.
Canola progressed rapidly this week with 90% flowering, although some late and reseeded fields are still in the rosette/bolting stage. Overall, canola ranges from good to fair condition, mostly because of dry conditions.
Corn progressed rapidly with the warm temperatures and is also in good to fair condition. Approximately 10% of acres are in the V1 to V5 stages, with the remaining 90% of acres V6 to V13. Soybeans are generally in good condition with 40 to 90% of acres flowering, some fields are podded. Peas and flax are in full flower throughout the region.
Some spraying for Fusarium head blight and sclerotinia is reported. Due to dry conditions, disease pressure is generally low.
Much needed rains for pastures and second cut hay fields were received over the past weekend in areas of the North Parkland and Valleys North. Haying is progressing with average to below average yields. Water supplies are adequate, although some dugout water levels are reported as low.