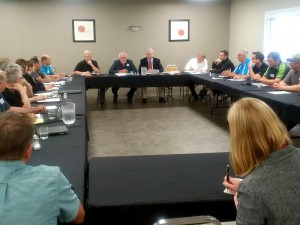 Media Release | On July 13, 2015, Robert Sopuck, Member of Parliament for Dauphin-Swan River-Marquette, hosted a meeting in Swan River with Mr. Sean Finn, CN Rail Line's Executive Vice-President of Corporate Services & Chief Legal Officer, and community representatives from the Swan Valley area.
Click picture for a larger version.
Representation was from a wide range of local business groups including: agriculture, forestry, local government, economic development and chamber of commerce members.
"I was very impressed with the open and frank dialogue at this meeting", said MP Sopuck. "It is obvious that the Swan Valley community leaders are working hard for the area to grow and prosper".
Sean Finn noted that CN Rail has no plans to abandon the Swan River Valley rail line and service. He also noted that rail traffic is increasing after a period of decline, which he took to be a very positive sign as the future of the line will depend on sustained traffic flows.
Mr. Finn, along with the meeting attendees, agreed to develop a formal citizen-led structure to liaise directly with CN representatives, in order to deal with on-going and potential growth opportunities of the rail service to the Swan Valley area.
"I am pleased to see this liaison opportunity between the Swan Valley community and CN Rail", MP Sopuck said. "I commend all of the meeting's participants for their input to a very positive outcome".