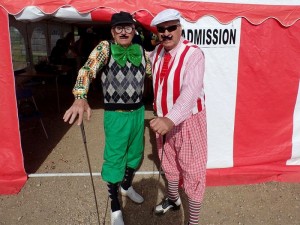 Submitted by:
Mark Simpson |
Friends of the Golf Club FunDraising Bonanza was an over-the-top massive success!! Thank you to the Bowsman Lions and all service clubs, volunteers, club members, golf course staff and management and all of the sponsors!
Click any pictures for a larger version.
June 20th, 2015 marked a milestone in the golf course's 81 year old history and presented a first of a it's kind tournament here in the Valley. The day couldn't have been more perfect for an event like this to take place for the 210 golfers who signed up for fantastic day of fun and socializing and yes, some golf as well!!

The entire idea behind this tournament was to bring people together and that happened in several different ways. The teams who joined up to play together, the volunteers who completed numerous tasks, the organizing committee for the planning, and the community at large for coming out and showing support for the golf course. The one thing in common among all of those things, is that we all were working toward one eventual goal of creating an event and atmosphere of fun!
Participants played a variety of entertaining games along with actual golfing that created a laugh-filled day! The truth is, for the first time putting on this event, everyone did a great job and we couldn't be happier with how the day turned out!
The feedback from participants and public was extremely positive! It is amazing what can be achieved when we all work together and have a common goal! Thanks again to all of the people who either played, provided auction items or bought them, or came out for the outstanding dinner and the dance. We are extremely grateful for the terrific generosity and support of all the "Friends of the Golf Club"!!