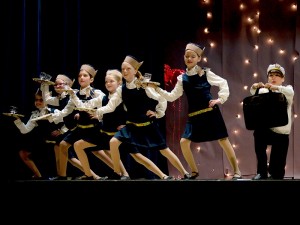 Submitted by:
Michele Poole |
On Wednesday, March 25th, 2015 the students of the Swan School of Dance "wowed" a packed audience with a spectacular show!
The two hour long recital featured 28 excellent dance numbers.
Photos are courtesy of "Captured by Jennifer" Photographer.
Click any picture for a larger version.
From our tiny "Movers and Groovers" Hip Hop number of "Wheel on the Bus", the beautiful heartfelt lyrical numbers, to character Ballet, and funky street jazz, and of course our tap numbers, the dancers provided Swan River to a night of great entertainment.
Each year the instructors show appreciation to dancers who show a positive attitude in class, those who come to class prepared, who know their choreography and who are role models for the young dancers. They reward these students with an extra dance number. This year these dedicated students got to try something new…Afro Jazz. The performance they gave was showed off their commitment, perseverance and artistry.
The Swan School of Dance is now finished it's dance season and looking forward to another year, starting in September. If you are between the ages of 3 and 133 and interested in having fun through dance please give them a call at 204-734-2654 for more information.