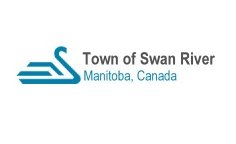 The Council of the Town of Swan River met on Thursday, March 19th, 2015, at 7:30 p.m. in the Town Council Chambers with Mayor McKenzie presiding and Councilor's, Jacobson, Delaurier, Whyte, Sakal, Moriaux, Friesen, present.

Delegations:
1. Mayor McKenzie presented a grant cheque to Crystal Duchesne of the Swan Valley Crisis Centre.
2. Kent and Donna Day presented their concerns over their sewer replacement service at 204 6th Avenue South.
Minutes:
1. RESOLVED that the minutes of the March 3rd, 2015 regular meeting and March 12th, 2015 special meeting of Council be adopted as received.
Carried:
2. RESOLVED that the Agenda for the March 19th, 2015 regular meeting of Council be received.
Carried:
3. RESOLVED that the Superintendent of Works Report be received.
Carried:
4. RESOLVED that the accounts as follows be hereby approved for payment:
(1) General Accounts from Cheque No. 16572 to No. 16640 for a total of $140,371.12.
(2) Payroll Account from Cheque No. 3524 to No. 3531 for a total of $104,417.09.
Carried:
5. RESOLVED that Mayor McKenzie and Acting Chief Administrative Officer, Julie Fothergill be authorized to sign an Agreement extension for Waste Disposal Services provided by Stardust Construction Ltd. with the Municipality of Swan Valley West.
Carried:
6. RESOLVED that the a Ricon lift for the Handi Transit Van be purchased from Fairway Bus Sales in Steinbach, MB for the amount of $5,678.92 plus taxes and shipping.
Carried:
7. RESOLVED that By-Law No. 2/2015 being a By-law of the Town of Swan River to maintain property and to regulate nuisances, derelict, abandoned and unsightly property be read a second time.
Carried:
8. RESOLVED that By-Law No. 2/2015 being a By-law of the Town of Swan River to maintain property and to regulate nuisances, derelict, abandoned and unsightly property be read a third time and be passed.
Glen McKenzie Yes
David Moriaux Yes
Phylis Friesen Yes
Jason Delaurier Yes
Lance Jacobson Yes
Jason Sakal Yes
Duane Whyte Yes
Carried:
9. RESOLVED that the Town of Swan River Council accept the on-call proposal for Utility Operators.
Carried:
10. RESOLVED that the Acting Chief Administrative Office be authorized to attend the Manitoba Municipal Administrators Association Annual Conference being held in Brandon, MB on April 26 to April 29th, 2015.
Carried:
11. RESOLVED that the Request/Concern Report for February 2015 be received.
Carried:
12. RESOLVED that the 2015/2016 annual membership with the Federation of Canadian Municipalities in the amount of $680.81 be approved for payment.
Carried:
13. RESOLVED that Council authorized the purchase of a Case 580 Super N WT Loader/Backhoe as per their quotation received on February 26, 2015.
Carried:
14. RESOLVED that, pursuant to Section 152(3) of The Municipal Act, Council go into Committee and close the meeting to the public.
Carried:
15. RESOLVED that pursuant to Section 152(4) of The Municipal Act this meeting be reopened to the public.
Carried:
16. RESOLVED that the letter of resignation from the position of Manager of Aquatic Services (attached as Schedule "A" submitted by Joe Mante be received with regrets.
Carried:
17. RESOLVED that this regular Meeting of Council now adjourn.
Carried: