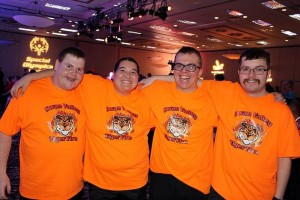 Submitted by:
Shirley Todosichuk |
After months of preparation and training, the Special Olympics Manitoba Parkland Region sent 18 athletes to the 2015 Special Olympics Manitoba Winter Games in Winnipeg from Feb 27 to March 1st.
Kolton Leslie, Angie Ferland, Brett Miller and Carter Formo at the Winter Games Opening Ceremonies. Click any picture for a larger version.
While the Special Olympics Winnipeg Winter Games are an annual event, the Manitoba Games are held only once every four years.
The Parkland Region was represented by Darren Boryskavich from Russell, MB in snowshoeing winning 3 Silver medals in the 100 meter, 200 meter, and 400 meter events and the Swan Valley Tiger Fire Floor Hockey Team brought home bronze.
Swan Valley Tiger Fire showing off their Bronze brass.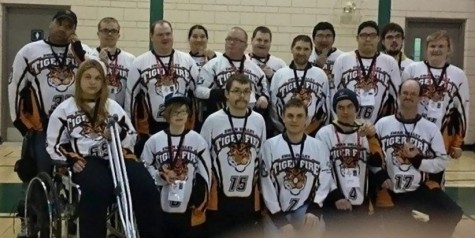 On the Tiger Fire Floor Hockey Team: Joe Cook, Angie Ferland, Carter Formo, Jarret Gingras, Ronald Legall, Allision Landels, Kendall Leslie, Kolton Leslie, Brennan Sauder, John Schabert, Jeremy Stephen, Kipp Terry and Ricky Zimmer all from the Swan Valley area and Sarah Holmes, Brett Miller, Zachery Lavallee and Katherine Pugh from Portage La Prairie.
Coaches Wanda Church, Gail Bruce, Doreen Miles, June Mosiondz (Swan River) and Bryan McCorrister (Portage) attended with the Tiger Fire athletes and Elaine Lungal Johnston of Russell was Darren's snowshoeing coach.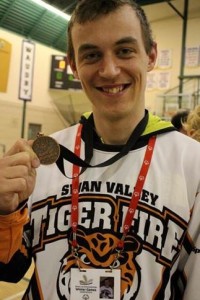 Tigers' Coach June was impressed with the team.
The Tiger Fire Team played with lots of heart till the final buzzer in every game!
The team also had a few injuries during the weekend.

Right: Brennan Sauder, proudly displaying his bronze medal.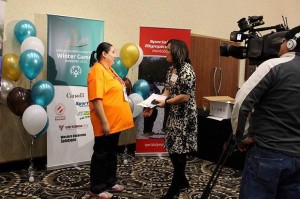 Over 300 athletes and coaches from seven regions across the province and Special Olympics Saskatchewan athletes participated in the Games. There were also over 150 volunteers working at the Games.
Above: Eva Kovacs from Global News Winnipeg interviewing the Valley's own Angie Ferland.
It was an amazing weekend for the athletes and coaches, who loved every second of the games! Winning bronze at the games was a great way to wrap up the season for the Tiger Fire Floor Hockey Team.