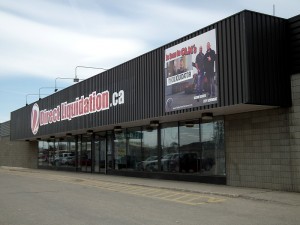 ValleyBiz.ca Story |

Local property owner and entrepreneur Jason Eisner is continuing to pursue opportunities that will create more jobs locally and help our community thrive.
ValleyBiz.ca has received confirmation from Eisner that he has recently signed a long term lease with Giant Tiger on his existing Direct Liquidation Building located at 1300 Main Street. The Canadian retail chain is set to take possession of the building on May 1, 2015 with plans to employ approximately 20-25 people.
"It will be their flagship store serving as a hub for other stores they own." according Eisner. "The dollars they are investing into our community and the infrastructure would blow most people's mind ~ so be prepared to be impressed with this store once renovations are done." he said. Eisner also indicated they are also looking at supply agreements to supply all 31 of Giant Tiger's stores with product. Board approval is expected March 27 which will allow the project to move forward and an official announcement will be made.
Direct Liquidation Swan River will be downsizing and temporarily relocating to the "old vet/youth center" building. Eisner will remain involved with Direct Liquidation franchise operations and any excess inventory from the existing Direct Liquidation store will be dispersed to one of the 7 new Direct Liquidation franchises in progress.