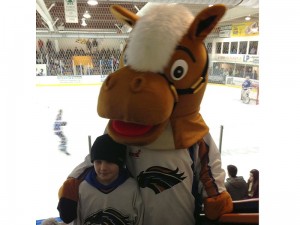 Submitted by:
Tracy Boychuk
It was a packed house at the Stampeder home game on February 27, 2015.
A huge thank you to the Swan River Kinsmen Club and Swan River's Key Chevrolet Buick GMC for FREE ADMISSION.
Click picture for a larger version.

The crowd enjoyed the trivia throughout the evening and some very speedy competitors competed in the Rev up Runners race.
1st place winner of the interior/exterior vehicle detailing was Warren Gray
2nd place oil change to Murray Mullin
3rd place T-Shirt to Kyle Machan.
Kyle would like a rematch so stay tuned for that race.