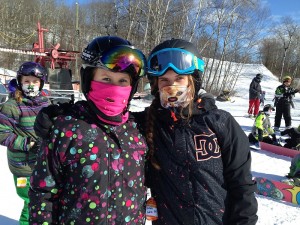 Submitted by:
Leigh Osatchuk
The conditions were great, and many came out to support Thunderhill's Annual Mardi Gras.
117 guests came out to enjoy an Easter Egg Hunt, Costume Party and Downhill racing. There was something for everyone.
Above: McKenna Staples & Jessica Hack enjoying the sunshine
Click any picture for a larger version.

Kristen Bender crosses the finish line.

Will & Carter Moncrief hitting the slopes,
still learning the ropes.
Thank You to Michelle Nemetchuk-Strilaeff for organizing the event, Thank You to Kyle Mahan and Rumors for the fantastic prizes and thank you to all who came out to enjoy the day.