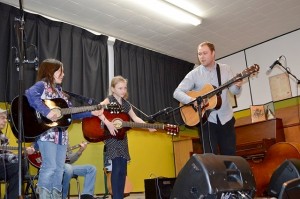 Submitted by:
Donna Burghart |
An amazing concert was enjoyed by a great crowd on Friday February 13, 2015 in the Bowsman Legion Hall!

Pictured above: Sierra Urban & Mackenzie Currie picked up their guitars to pick out a tune! Click any picture for a larger version.
Showcasing their talents were Spencer Burghart, Ben Schullman, Everett Griffith, Autumn Walmsley, Owen Martynuik, Lawson Burghart, Kierstin Griffith, Sierra Urban, Mackenzie Currie, Kaleigh Currie, Layna Burghart, JJ Burghart, Morgan Cryderman, Levi Reader, Wyatt Reader, Maclyn Burghart, Sydney Fleming, Kolton Leslie, Angie Ferland & Tayler Fleming.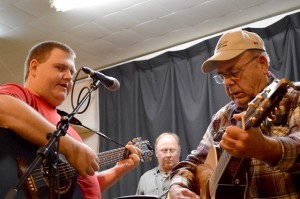 With an amazing backup from Marcel Hapel, George Woodley & Les Rosteski.
With a multitude of instruments & vocals these kids showed our community that the future of music is very bright!

Kolton Leslie & grandpa
George Woodley sang to the audience

Shown here are first year students Spencer Burghart, Ben Schullman, Everett Griffith & Autumn Walmsley with "Open String Blues"

Kierstin Griffith & Lawson Burghart showcased their fiddle skills

Owen Martyniuk did a solo on fiddle.

JJ Burghart & Kaleigh Currie played their version of "Old Joe Clark"

Morgan Cryderman got the crowd dancing.

Sydney Fleming showcased her vocals

Angie Ferland always fills the dance floor!

Wyatt & Levi Reader entertained the crowd with some fun tunes!




Maclyn Burghart played a few fiddle tunes before being joined by her sisters Layna & JJ to sing some favourites such as "Wagon Wheel" & "God Made Girls"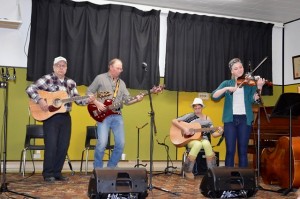 This was a fundraiser for the BAM Jam Camp coming up March 30 & 31 but also a great night to get together & celebrate the wonderful talent in our Valley's youth.

Tayler Fleming showed everyone a good time
with some great dancing tunes!
Thanks to all who came out to support the music in the Valley.
Marcel Hapel was the winner of the $100 50/50 & he donated it back to the camp! We look forward to being able to do this again & again as the talent only grows! Hope to see you all at BAM Jam Camp!