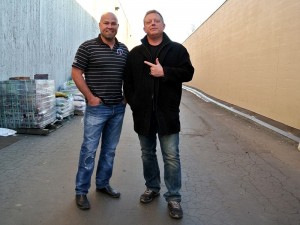 ValleyBiz Story |
The new season of The Liquidator is fast approaching and fans will see Jeff Schwarz travelling as far east as the tropical islands of Indonesia, and right here in the Swan Valley as he takes us all on a wild and thrilling adventure.
Swan Valley's own Jason Eisner makes his debut on as one of the new cast members along with a familiar collection of colourful characters, including Jeff's protégé and grasshopper Daniel the Apprentice, favourite "frenemy" José the Importer, Wayne the Antiques Picker, Sam the Auctioneer, Doug the Biker, and René the Designer. With the opening of the Swan River franchise, you will need to tune in to see if there are other Swan Valley residents, family and friends to be spotted.
For a sneak peak of some of the Swan River footage, click below:
The exhilarating fourth season of unpredictable, in-your-face LOL moments with Canada's most outlandish, loud-mouthed, yet lovable bargain hunter premieres Thursday, January 8th at 9:30 p.m. ET/PT on OLN.