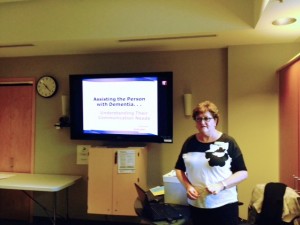 Submitted by:
Laurie Church
The Alzheimer Society of Manitoba hosted a 1 day workshop on "Living with Alzheimer's Disease or Other Dementias" on Saturday, September 13, 2014.

The workshop was attended by 27 participants and included 18 family caregivers and 9 formal caregivers from the Association for Community Living.
Topics of discussion covered :
• Understanding dementia and day-to-day living
• Communication: assisting the person with dementia and understanding their communication needs
• Caring for people with changing behaviours
• Caring for yourself while caring for others
• Community resources
We also had staff from the Community Resource Council and Prairie Mountain Health drop in to share information about their roles in working with people with dementia and their caregivers/ families.