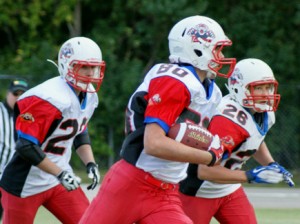 Submitted by:
Leigh Ostachuk
The wind was a bit brisk on Thursday as the Tigers took the field against the visiting Dauphin Clippers.
The excitement from the home-opener was still felt as the crowds poured in to cheer on the home team.
Photos by: S. Lemperes | Click any picture for a larger version.
The Tigers struck first as they racked up three touchdowns in the first half and lead the game 21-8.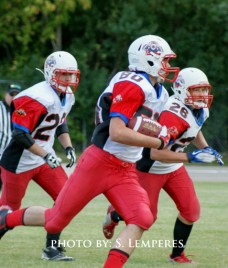 The Tigers defense did a fantastic job holding the Clippers O-line throughout the first half. #36 Nicholas "Cupcake" Leclaire picked two interceptions which ended in turnovers that helped with consecutive touchdowns.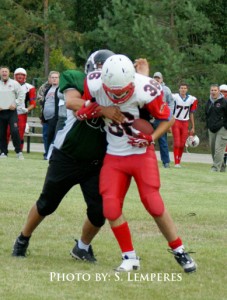 #80, Eric Klyne. has the ability to run the ball, or push the line when some crucial yards need to be made.
In the second half Dauphin regained their confidence and began to strike back answering every Tigers touchdown with one of their own.
Both teams played excellent, giving the "standing room crowd only" something to cheer about. The Tigers took the win 35-30.
Fans were treated to some excellent high school football, and some delicious food at the concession.
The next home game will be September 26th.