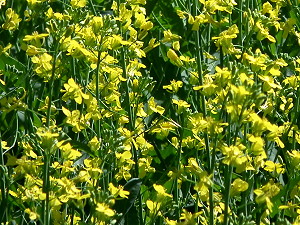 Northwest Region Crop Report Prepared by: Manitoba Agriculture, Food and Rural Development July 28, 2014 |
Northwest Region
Warm temperatures over last week continued to help crops improve throughout the Northwest Region. Rainfall amounts in the Swan Valley over the past weekend ranged from negligible to over 76 mm in others. Excessive moisture is once again evident in that area with potholes and low lying areas inundated with water.
Regionally, approximately 90% of the cereal crop is at the heading and flowering stage with the remainder in the milk stage of growth; 95% of the canola crop is at some stage of flowering with only about 5% at podded. For soybeans, 30% of the crop is in the vegetative stage of growth and the remaining 60% are flowering and about 10% are podded. Approximately 25% of the field peas are blooming with 75% podded. In general, crop development is approximately two weeks behind normal for this time in the growing season.
Fungicide applications on all crops are mostly complete. Weed control is adequate, although wild oats are visible in some cereal crops. There are no reports of significant insect activity in annual crops and bertha armyworm monitoring traps continue to show low moth numbers.
Haying operations progressed quite rapidly. Producers have to travel around many wet spots in the fields where hay canopy is very thick. Areas along the lakes are still inundated with water and inaccessible, as well as in The Pas. Yields are reporting average to above average and quality is average. Water supplies are still good with excessive spring and summer rains filling dugouts and water sources earlier in the year.