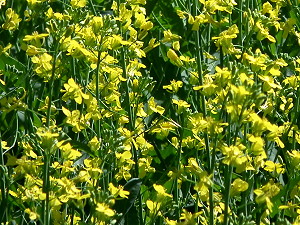 Northwest Region Crop Report Prepared by: Manitoba Agriculture, Food and Rural Development July 22, 2014 |
Northwest Region
Warm temperatures over the past week help improve crop conditions throughout the Northwest Region.
However, crops are rated from very poor to excellent depending on location. Rainfall amounts over last week were negligible. The excessive moisture conditions earlier in the season resulted in loss of crop in low spots, significant crop yellowing and crop stunting. Fields that were too wet to seed in the spring are more visible as summerfallow and chemfallow acres.
Approximately 65% of the cereal crop is at the heading and flowering stage, 70% of the canola crop is flowering with the remainder in the rosette stage, and 50% of the soybeans are in the vegetative stage of growth and the remaining 50% are flowering. The majority of field peas are blooming with some pod development beginning.
Fungicide applications were made where feasible. Fungicide applications may not be made to some canola crops that are continuing their recovery from the stress of too much moisture. There are some reports of cabbage maggot activity confirmed in some canola fields in the Swan Valley. Bertha armyworm monitoring traps continue to show low moth numbers throughout the region.
Haying conditions improved significantly over last week with many producers cutting and baling. Yields are extremely variable throughout the region and are reported as average to below average. Grass and alfalfa hay is being harvested in good condition. Hay quality will be known as quality analyses are completed. Seeding of oats for greenfeed continued over the past week. Pastures appear to be slowing in growth. However, pastures and hayfields along the lakes are still submerged with many not having any access due to high water. Dugouts are full.