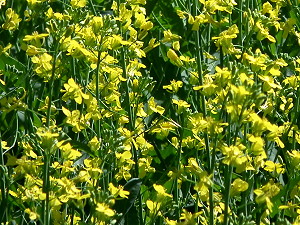 Northwest Region Crop Report Prepared by: Manitoba Agriculture, Food and Rural Development July 14, 2014 |
Northwest Region
Warmer temperatures through the week and windy conditions over the weekend have helped dry fields. However, intermittent thunderstorms in the Parkland area resulted in limited drying progress. Crops that were sitting in water for prolonged periods, and those in low lying areas, are still showing the effects of excess moisture. Canola appears more impacted by the excessive moisture than wheat.
Canola growth is variable with 20% of the crop at seedling stage, 50% rosette and 30% flowering. Spring wheat development ranges from 10% emerging, 20% tillering, 40% stem elongation and 30% heading/flowering. Soybeans are in the vegetative stage while 75% of field pea acres are in the flowering stage. Corn in the region is generally rated as poor. Seeding of greenfeed continues where field conditions allow.
Some fungicide applications have been made. Producers were also able to spray some unseeded fields in an effort to reduce and remove weed growth.
There was some haying progress made in the region, while most areas still face wet conditions. However, the weekend rains halted progress. Yields are estimated to be average to above average, although in the Swan Valley area below average yields and quality are reported. Pasture growth is very good with the improved warm conditions and excess moisture. All dugouts and water tributaries are full.