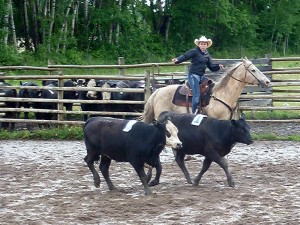 Submitted by:
Michelle Buck
The Blue Sky Team Penning club held their first jackpot of the season on Sunday, June 22, 2014 at their arena south of Benito, MB. Despite the days and days of rain, the grounds were in good shape and 35 teams took part in the competition.
After a brisk ride across the pasture to round up the cattle everyone helped to sort them into the chute and get the three herds numbered.

A rain delay was called as the skies opened up, but everyone was back in the arena soon after, just a little muddier.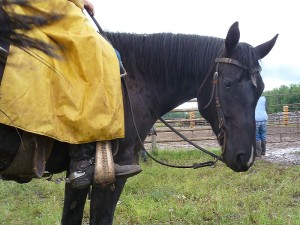 Instead of damping spirits, everyone seemed to think it was pretty funny to ride with the mud flying, and when we broke for lunch there were a lot of comments as to who was wettest and muddiest, and "I bet you can't tell what color these boots are supposed to be."

The day alternated between rain and sun, and seemed to keep the cattle lively. Every team had to work hard for their cows, and a lot of "no-time's" were called when the clock ran out. At the end of the day the placings were as follows:
A side – 6 cows penned:

1st place:
Sharon Foster, Gerald Peesker,
Kim Kindiak

2nd place:
Dennis Highmoor, Gerald Peesker,
Jeurgen Schubert

3rd place:
Kim Kindiak, Janie Galloway,
Sharon Foster
B side – 3 cows penned:
1st place:
Annie Kabatoff, Jodi Suchaplas,
Andy Suchaplas
2nd place:
Annie Kabatoff, Jessie Foster (absent from photo), Glen Foster