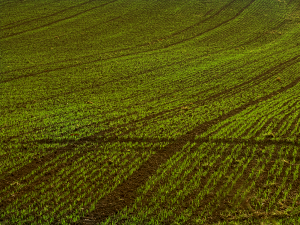 Northwest Region Crop Report Prepared by: Manitoba Agriculture, Food and Rural Development June 9, 2014 |
Northwest
Rain showers and thunderstorms continued to impact areas of the Northwest Region over the past week with amounts ranging from 12 mm to over 25 mm. Some hail was reported in the Ste. Rose and Swan Valley areas. Temperatures dipped below zero in The Pas area Friday night. Very little crop has emerged so frost damage is negligible.
Seeding is approximately 75% complete in the Northwest Region. Approximately 80% of the wheat crop, 70% of the canola crop, and 75% of the corn acres are seeded, while only 50% of the intended soybean crop was seeded. Seeding progress made over the past week was under less than ideal conditions. Producers in localized areas were challenged with wet soil conditions. The best seeding progress was in the Roblin area where seeding is 98% complete. Producers at The Pas have the least amount of crop seeded at about 60%.
For the most part, crops have and are emerging quickly and uniformly. There are reports of crop damage in the Swan Valley due to heavy rains. On average, 90% of the pea crop has emerged, about 75% of the wheat crop has emerged, 45% of the canola crop has emerged, and less than 10% of the soybeans have emerged. There are a few reports of flea beetle activity in some fields and there are no reports of cutworm activity.
Forage fields are growing rapidly with alfalfa plants nearing the optimal harvest date. Monitoring in the Dauphin area shows that the maturity levels are at the optimum for dairy quality hay. Pastures are in good condition and have adequate to excessive moisture conditions.