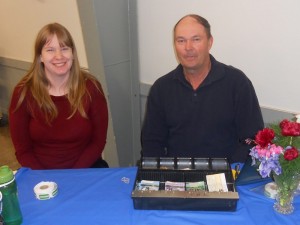 Submitted by:
Karen Gade |
On Sunday June 8, 2014 more than 200 people enjoyed a delicious supper of turkey, ham, assorted salads and desserts prepared by the Benito United Church.
Click any picture for a larger version.
Pictured above: Rev. Erin McIntyre Garrick and Edwin Cotton greeted everyone with a friendly smile as they arrived.
Doors opened at the Benito Rec. Centre at 4:30. Appetites were easily satisfied with a selection of salads ranging from potato, pasta, broccoli, taco, oriental, tossed, bean, and coleslaw, which accompanied the cold meat, homemade buns, devilled eggs, and pickles. The dessert table was laden with lemon, raspberry, blueberry, chocolate, cherry and various other tasty treats.
Pictured above: Clara Alford made the difficult decision of choosing a dessert while Bob and Melba Tibble took advantage of not only the delicious meal but a chance to do some visiting.
Thank you to all who supported the supper by attending and to those who organized, donated food and helped prepare it.