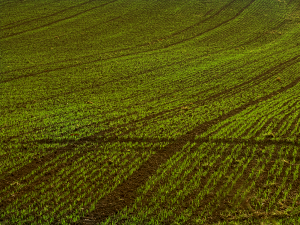 Northwest Region Crop Report Prepared by: Manitoba Agriculture, Food and Rural Development May 20, 2014 |
Northwest Region
More favorable drying conditions prevailed throughout the Northwest Region over the past week resulting in some producers being able to get on the land. In general, less than 10% of the crop acres are seeded. Most of the acres seeded are to wheat, with some acres to canola. The best progress was made in the Roblin area where approximately 45% of the wheat acres are seeded. Field operations were halted throughout the region with rain arriving Monday. The Pas and Dauphin areas report the highest surplus soil moisture conditions. Perennial and annual weeds, as well as volunteer plants, are growing. In the Swan Valley area, some flea beetle activity is noticed along ditches adjacent to fields.
Although pastures and hayfields are greening up, there is still limited growth due to lack of heat to date. Rainfall in the last 24 hours has accumulated to excessive amounts in pastures and fields making them inaccessible and waterlogged. Supplemental feeding is still taking place in many locations due to slow growth of perennial pastures. Hay supplies are at a minimum.