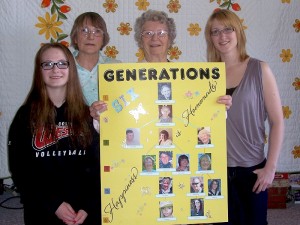 Submitted by:
Donna Leming |
The 6 Generation Quilt Show on May 17, 2014 was a resounding success. Approximately 80 people meandered up and down through the quilt lined corridors.
Click any picture for a larger version.
Fifty quilts created by Catherine Mae Epler and her descendants were displayed. Also on display were quick quilts and an heirloom cigarette silk mini quilt.
Fabrics used included velvet, wool, cotton, old nursing uniforms, dresses and new material.
Quilts ranged in size from tiny tiny doll quilts to queen size bed quilts. The earliest quilts were completely hand done. The more recent ones were often a combination of both machine and hand work.
The show and tea were hosted by Catherine Epler's granddaughter, Irene Bradley Glashan, her three daughters Cynthia, Barbara, and Pat and Irene's nieces Lynette and Rosalie.