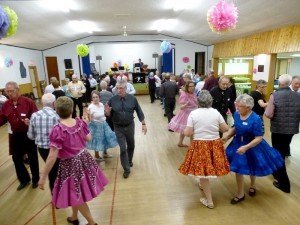 Submitted by:
Lloyd Gilchrist
More than seven squares of enthusiastic square dancers joined with the Swan Valley Hoedowners to wind up the square dance season with a fun-filled dance which was held at the Kenville Hall on Saturday, May 3, 2014.
Click any picture for a larger version.
Dancing began at 2:30 p.m. and continued until 5:00 p.m. when a delicious supper provided by the Hoedowners was served to all the dancers. Dancing continued after supper until 8:00 p.m.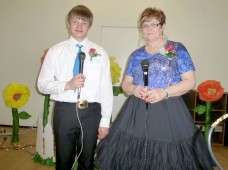 Callers Brad Slepicka and Linda Gilchrist kept the dance program lively with an interesting variety of square dance calls and round dance cues.
The dancers were also treated to a couple of round dances cued by Ron Hopkinson of Regina.
Visiting dancers attended from Regina, Preeceville, Virden, Hamiota, Birtle, Russell, Brookdale, The Pas, and various other rural areas.