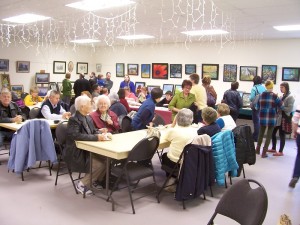 Submitted by: Renate Wille
Exhibitors: Alex Stupak, Jean Hunt, Naomi Nemez, Mary Jane Eichler, Barb L'Abbe, Wilma Barkman, Barb and Terry Filuk, Martyn Snell, Shirley Nemez and Renate Wille.
The annual event was worth the drive into the countryside!
Click any picture for a larger version.
The show exceeded all expectations as to the art, the food and the fellowship. Over one hundred visitors came out to the Little Woody Church and enjoyed the sights and a good visit.
The art group meets in the church every Monday after New Year and the season ends with this show, and summer things take over.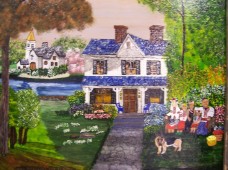 Alex Stupak was a very active member of the group. His talent, insight, sense of humour and unwavering faith was, in fact is, a great inspiration to the rest of us. So it was more than fitting to designate the entrance to his memory. Visitors and exhibitors alike shared stories, admiration and memories.
The hall was beautifully decorated with all the art and crafted objects. Naomi Nemez showed quilts, sweaters and paintings. Terry Filuk offered his artistry with his beautiful wood pieces. Barb Filuk displayed Memory Bears, crochet and cross stitches, Shirley Nemez makes cross stitch pieces, crochet bags and all kinds of crafts. The rest of the group displayed their paintings of varying styles and mediums. I am sure that everybody left with the memory of a few favourite pieces.
So, take a virtual short tour of the show and plan to attend next year!!