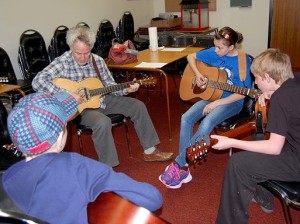 Submitted by:
Donna L D Burghart |
April 25, 2014 the Bowsman Legion Hall was the venue for the 7th Annual BAM Spring Concert. The Bowsman Accomplished Musicians is the fiddle & guitar program under the Bowsman School PAC.
Click any picture for a larger version.
Mr. Desmond Lagace works with the students one day per school cycle and brings them together to showcase their hard work at the annual Spring Concert.The Bowsman School PAC would like to send out a huge thank you to Mr. Lagace for all of his work.
During the afternoon students from Bowsman School had the opportunity to partake in workshops at the Bowsman Legion Hall. The guitar class were lead by festival adjudicator Daniel Koulack. Fiddle workshops lead by Ameena Bajer-Koulack and rhythm group lead by George Bajer-Koulack.
The evening brought the community together for a wonderful evening of music and socializing.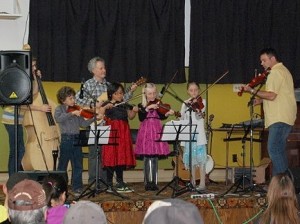 Pictured here is Lawson Burghart, Kaidence Quill, Kierstin Griffith & Jillian Hrycyk performing Old Tome favourites such as 'Rubber Dolly' and 'Liza Jane'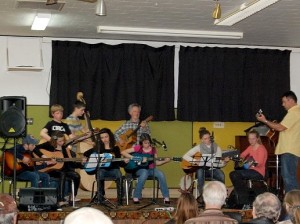 The advanced and intermediate guitar performed together a wonderful rendition of 'House of The Rising Sun'. Pictured here is Hadley Stinson, JJ Burghart, Collin Silverthorn, Maclyn Burghart, Hailey Burghart, Jessica Urban & Emma Stinson.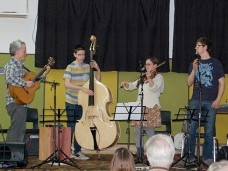 Thanks to Daniel Koulack, Ameena Bajer-Koulack, George Bajer-Koulack & Desi Lagace for being a special part of the evening.

The evening was rounded out with a coffee house where the community could take the stage.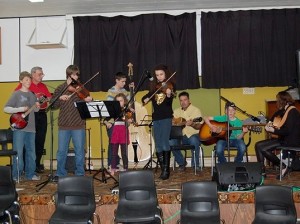 This brought out "The Rednecks" to give the crowd a spectacular display of the future of valley music. Here is Levi Reader, Wyatt Reader, Layna Burghart, Desi Lagace, Maclyn Burghart, Hadley Stinson & JJ Burghart