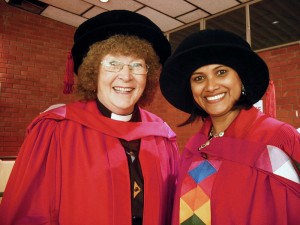 Submitted Story |
Rev Dr. Jenny Sprong arrived in Swan River on October 30, 2013 where she will be serving the community as the new Pastor at St. Andrews United Church.
Rev Dr. Jenny Sprong (left)
with Prof Sarojini Nadar.
Click Picture for larger version.

Jenny Sprong was born and raised in Johannesurg, South Africa. Johannesburg is the biggest city in South Africa but she left it for the most beautiful city in the country after marrying Kevin Sprong in the 1970s. After a few years in Cape Town, which is also called the Mother City, with its magnificent Table Mountain, they moved to Pretoria where, Bianca their first daughter was born.
Kevin then went to Rhodes Univerrsity to complete his training for the Methodist Ministry and after graduating, their family moved to Pinetown, a suburb of Durban, where they spent four years. Camilla, their second daughter, was born there. They then moved to Brackenhurst, situated about 30 Kms south of Johannesburg, where Kevin was the minister for nine years.
During this time Jenny began her theological studies – she completed a Diploma in Theology, receiving the Joint Theological Education Board Award for distinctions in all thirteen of her courses. She also became the District President of the Women's Auxiliary of the Methodist Church in Southern Africa during this time and represented them at the World Federation of Methodist and Uniting Church Women Assembly in Singapore in 1991. Here she met Canadian women with whom she began corresponding.
In 1997 twelve Methodist women from South Africa went on a Face-to-Face Experience to the Toronto Conference and Jenny was selected to be part of the group. Ever since that exciting experience, Jenny has had a deep desire to return to Canada. The United Church was affirming and pro gender equality and this was refreshing for her. She began using the hymns in Voices United and worked the UCC Creed into liturgies she used in worship in South Africa.
At a Life-Revision Retreat (seven-day silent retreat) at the end of 1999, Jenny's call to the ordained ministry was re-affirmed. She began her journey to ordination in the year 2000 and was ordained in 2007. At this stage she had already completed her Masters Degree in Religion and Social Transformation and had begun reading for her PhD. Gender Justice in the Methodist Church of Southern Africa is not yet a reality, even though the Church does have "A Statement on Women" in its Laws and Discipline's Appendix. Jenny's thesis addresses the gap between its policy and practice. She completed her degree and graduated in 2012.
Jenny has been in full-time ministry for thirteen years of which five-and-a-half were spent as the Social Justice Coordinator for the Diakonia Council of Churches in Durban, South Africa. Her passion is gender justice and the affirmation of women and girls. She is a feminist theologian and is energised by creative rituals and she loves designing innovative liturgies for worship.
When Kevin, her spouse, was approaching retirement from the MCSA, they decided to apply to serve in the UCC. After being accepted in principle – almost two years ago – they began the search for a pastoral charge. Jenny is delighted that St. Andrew's United Church liked what they saw in her CV, and after some interviews via Skype, believed her to be a good fit. After some more Skype conversations, an invitation was extended and a few months later their visas were granted and they arrived in Swan River on the day before Halloween 2013!
Their welcome to Swan River has been very warm even though the weather soon turned cold and they experienced their first snow in Manitoba! They are looking forward to a White Christmas for the first time ever and the Sprongs hope that their daughters will come and visit them in Canada next year.