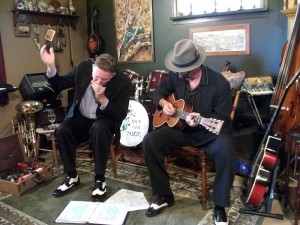 Submitted by:
Christine Marek-Matejka |
Home Routes is proud to present an eclectic mix of superb professional musicians from across our great country and beyond.
Left: Acoustic blues artists, Hills and Lemelin, throw it down on Sunday afternoon at the Matejka's.
Click picture for a larger version.
With the fall season upon us, community volunteers usher in a new season of concerts the first of which began on Sunday, September 22 featuring artists Hills & Lemelin, dubbed "the finest acoustic blues duo in Canada" by Real Blues Magazine. As one local blues enthusiast remarked, this was the best Home Routes performance so far!
Next on the list is mom and son duo, Theresa Doyle and Patrick Bunston from PEI whose traditional celtic, folk, jazz and country flavor will warm your soul.
Between September and April of 2014, six concerts will be held in select homes and business outlets in the Swan Valley. These are dedicated, hardworking, award winning musicians who have gained an honored standing and reputation in the prestigious professional music community.
Home Routes is a non-profit arts organization formed to create new performance opportunities for acoustic musicians and made possible through the help of volunteers in our community. It also serves to increase access for rural and remotely located Canadians to professional concerts.
Home Routes is a casual and heartwarmingly fun musical experience that brings family and community together under one roof. Each house concert is based on the folk music tradition where traveling minstrel musicians perform for an audience in a private home in exchange for food and lodging. All funds generated from ticket sales go directly to the artist(s) to help offset traveling and related expenses.
For season or single ticket reservations and venue location information, please call 204-525-2069.