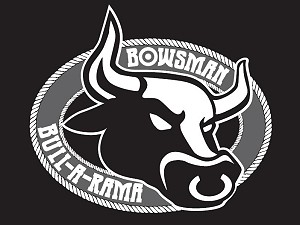 Submitted by:
Bowsman and District Lions Club |
The Bowsman and District Lions Club would like to invite you to the 10th Anniversary of their annual Bull-A-Rama at the Bowsman Arena on Saturday, October 5, 2013.

3:30 pm Old Western Family Steak BBQ and Saloon
7:00 pm Bull-A-Rama Rough Stock Rodeo
9:00 pm All Ages Welcome Dance
This is the third year for Bull-A-Rama as a Rough Stock Rodeo event. In the previous years it was a bull riding event only, but now includes horses as well with saddlebronc and bareback riding and is a sanctioned rodeo by the Canadian Cowboys Association, which is celebrating their 50th Anniversary this year.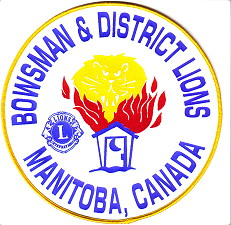 Over the past nine years, with just the proceeds raised from the past Bull-A-Rama's alone, the Bowsman Lions have donated approximately $85,000 to the local area. These have included donations towards various medical assistance needs, the Bowsman Arena, Swan River Lions Skateboard Park, and the Swan Valley Lions Clubs commitment of over $300,000 towards the purchase of the Swan Valley Cataract Equipment.
Proceeds this year will again go to help support the purchase of the Swan Valley Cataract Equipment.
Starting this year, Bull-A-Rama will take place on a Saturday, which we hope will give the public more opportunity to attend. This will also allow us to provide more fun and entertainment with the addition of third event.
Old Western Family Steak BBQ and Saloon Click for Poster
Starting at 3:30pm in the afternoon there will be an Old Western Family Steak BBQ and Saloon at the Curling Rink. It will have entertainment by the Ken Thompson Band, free wagon rides, and a Wild West Show before Bull-A-Rama starts. ALL AGES are welcome and children accompanied by paid adult can get a FREE hot dog and drink.
Bull-A-Rama Rough Stock Rodeo Click for Poster
At 7pm the Bull-A-Rama Rough Stock Rodeo will take place at the Bowsman Arena with the exciting saddlebronc, bareback, and bull riding action and will also feature a performance by the Fantastic 4 trick riders during the intermission. This year is also a 10th year anniversary for stock provider Prime Time Rodeos and the 30th year anniversary as an announcer for Emery Erickson.
All Ages Welcome Dance
There will be an ALL AGES WELCOME dance starting at 9pm after Bull-A-Rama back at the Curling Rink featuring the Ken Thompson Band and headliners "Sonny and the Hurricanes". There will be a shuttle bus to do drop offs only in Swan River as well as a Safe Ride Home program available.
TICKETS
TRIPLE PAC – SAVE $10.00 – Includes all 3 events – $40.00
BBQ, Bull-A-Rama, and Dance (up to 5 PM Friday Oct 4th)
Old Western Family Steak BBQ and Saloon admission – $20.00
Children under 18 with paid adult – FREE hotdogs and drinks
Children under 18 without paid adult – $5.00 for hotdog and drinks
Cover charge for adults (with no food) – $5.00
Advance Bull-A-Rama tickets up to 5 PM on Friday, Oct 4th – $12.00
Bull-A-Rama tickets on same day of event (Saturday, Oct. 5th) – $15.00
Dance tickets – $15.00 each (No advance price)
MLCC# 225/13
THERE IS FREE RV PARKING IN BOWSMAN
Tickets are available from:
– Cook and Cooke Insurance in Swan River, MB or you can order tickets from them by phone using Visa or Mastercard by calling 1-888-979-2665.
– Norquay Co-op in Norquay, SK
– Any member of the Bowsman Lions Club
Don't Miss the Excitement!
For more information or updates go to the Bowsman Lions Facebook page or website.