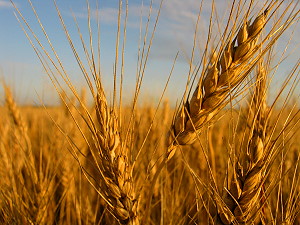 Northwest Region Crop Report Prepared by: Manitoba Agriculture, Food and Rural Initiatives GO Teams & Crops Knowledge Centre September 16, 2013 |
Northwest Region
Warm daytime temperatures and light to moderate winds dominated harvest conditions across the Northwest Region. Cooling overnight temperatures and higher humidity occasionally delayed early morning combining until dew dried off. Isolated rain showers and some hail occurred through Dauphin area on Tuesday, with some shelling of swathed canola reported. Grandview, Swan River and The Pas report light frost over Sunday night.
With the favorable harvest weather, an estimated 45% of total acres are combined. Harvest operations through Roblin, Dauphin and Ste. Rose areas are more advanced than the Ethelbert, Swan Valley and The Pas sectors. Expected yield averages continue to improve as harvested acres increase. An estimated 45% of canola acres are in swath and 35% is combined and yielding from 15 to 65 bu/acre. Overall quality and grade is very good.
Spring cereal harvest progress is at 65% combined and 25% swathed or ready for straight combining. Up to 75% of spring wheat harvest is complete and yields range from 30 to 85 bu/acre with overall average of 65 bu/acre. Spring wheat is grading mostly #1 and #2 with many bushel weights up to 65 lb/acre and protein levels at around 13.5%.
Soybeans around the Dauphin and Ste Rose areas are maturing with many fields dropping leaves. Much of the generally later fields through Fork River and Grandview are beginning to mature and are showing color change.
A limited amount of winter wheat and fall rye acres are seeded.
With the very good harvest conditions, straw is being baled and removed and field tillage work is also being completed. Straw yields and quality are very good. Some post harvest herbicide weed control treatments are being done.
Some late forage harvest continues on tame and native forage lands. Some forage shortfall still exists through the early season moisture and flood impacted lands in the Westlake and The Pas areas. Regional surpluses of forage and straw are available. Pastures conditions are rated as 20% good, 55% fair and 25% poor. Livestock water levels remain adequate in all areas.