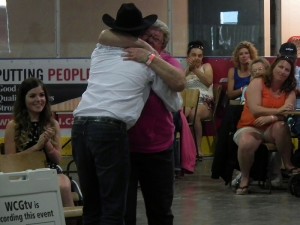 ValleyBiz Story |
Swan River's own Steven Jesmer was the winner of the 2013 Swan Valley Credit Union Talent Stage competition which took place July 26, 27 & 28, 2013 at the Swan River Northwest Roundup and Exhibition.

Click any picture for a larger version.
In celebration of 25 Years of Talent Stage, the Manitoba's Parkland Area Credit Unions and Swan Valley Credit Union doubled the regular prize money to a total of $4,000 in cash prizes.
Each of the 6 finalists received a cash prize of $500 cash.
The winner received an additional $1,000 cash.
Pictured above are the following 6 Finalists:
Steven Jesmer from Swan River, MB (inset right)
Tenille Arts from Weyburn, SK (top left
Brenda Lee Cottrell from Regina, SK (center left)
Blair Therrien from Yorkton, SK (bottom left)
Luke Reimer from Blumenort, MB (bottom center)
Brett Monka from Regina, SK (bottom right)
Thanks to the generous contributions of the Swan Valley community, who raised an additional $3,200 in prizes, each contestant received a prize.