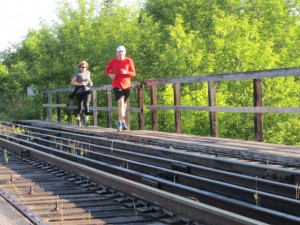 Submitted by: Garry Kennedy | The Rodeo Run this year was well attended. 26 runners showed up at the Arena on Friday morning, July 26th at 7:30. This was the 6th Annual. The 7 Kilometer run took in both Rotary and Legion Parks as well as a few residential streets in Town.
Click on any picture to see a larger version
With all the rain this year, The Parks are as green as can possibly be, the grass in the Legion Park is a highlight and the heavy foliage in the Rotary Park is the other highlight. And, of course, both parks have the river running along with the runners. Thanks to the great work of the Town Parks Department Employees the trails are well manicured and clean. What a great place to run/walk and breath.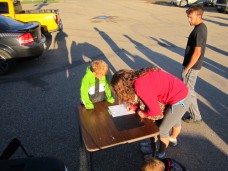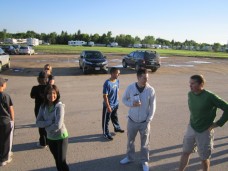 It was great to see so many runners show up – just to enjoy a run. Circle it on your Calendar for next year – it is happening every Rodeo; just before the Parade. Keep give'n'er.