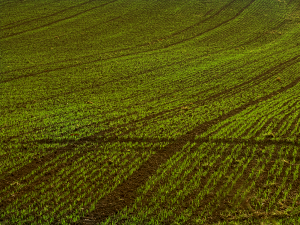 Northwest Region Crop Report Prepared by: Manitoba Agriculture, Food and Rural Initiatives GO Teams & Crops Knowledge Centre July 2, 2013 |
Northwest Region
Over Tuesday and Wednesday, rains and heavy thunderstorms again affected most areas of the Northwest Region which were recovering from the previous week's heavy rainfall. Precipitation amounts ranged from 25 mm around Roblin through Swan River and The Pas, with generally higher amounts of 40 to 60 mm in communities east of the escarpment. Between 100 to 150 mm were recorded locally on Tuesday south of the Grandview/Gilbert Plains areas where sloping land relief and previously saturated soils resulted in erosion damage and overland flooding of crops. Ponding due to excess moisture is more extensive in the flatter, less drained land areas of The Pas and Dauphin through to Eddystone. Through the weekend, weather conditions improved with stream flows decreasing and standing water beginning to subside.
Crop development improved with warmer temperatures; stand consistency and crop conditions have degraded. Cereals are rated as 65% of the acres in good to fair condition and canola at 60% good to fair. Winter wheat is headed, 75% of the spring wheat acres are at stem elongation, canola is at 10% flowering and 70% rosette, and 70% of the soybeans are around the third to fourth trifoliate stage. With the recent rainfall, many fields are beginning to yellow from excessive moisture. Late seeded, immature crops are most severely stressed and drown-outs are evident. Better drained fields are beginning to dry; however, regional soil moisture conditions are mostly at a surplus level. The Roblin to Swan River areas are less impacted by excess moisture and crop condition is better overall.
Aerial fungicide application on wheat was underway through the latter part of the week. Ground applications were limited by wet field conditions. Bertha armyworm trap counts are very low.
Condition of forage and pasture is rated as 85% good to fair. Moisture supply is surplus to adequate. Yields are expected to be average to below average. Rains and wet field conditions have prevented any forage harvest to date. Generally, pastures and native hay lands have more flooded, wet and soft conditions on the less drained low-lying lands at The Pas and adjacent to Lakes Dauphin, Winnipegosis and Manitoba. Dugout water levels are full to adequate in all areas.