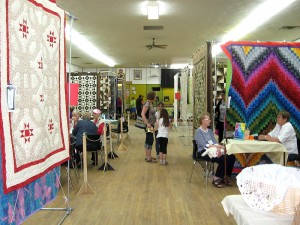 Submitted by:
Wade Dale |
Bowsman United Church Prayer Quilt Group 3th Annual quilt Show "Joy" was held at the Bowsman Legion on Saturday June 1, 2013.


Click any picture for a larger version.
It takes a lot of work to set up such a large quilt show. Luckily the quilters spouse, children and friends all pitch in and set up the 8 foot cube frames. As all 79 quilts were hung up and the doors opened on Saturday morning eager viewers were there.
It was a great day of looking, touching, wondering and asking questions about patterns. It is amazing the skill that the quilters display in there works of art. With many, many wonderful comments on the breathtaking display lavished onto the quilt group, all the hard work seem to disappear.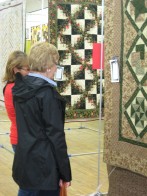 We were able to welcome visitors, not only from the Valley, but also the Pas, Flin Flon, Dauphin, Grandview and South Africa. We were a little amazed at the distance some people would go to to be able to see the show.

After viewing all the works of art, people were able to sit and have tea, sandwiches and dessert at the little tea area. The canteen was provided by ladies of the Bowsman United Church Catering group. Thank you so much for that.
The winner of our "Rainbow Bargello" quilt was Murray Parsons.
The winners of our Basket Auctions are as follows:
1. Garden Delight – Lila Dixon
2. Puff quilt & Teddy Bear – Melba Tibble
3. Crafters & Quilters – Deborah Burnside
4. Kid Fun – Margaret Foster-Tamblyn
5. Take 2 Coffee – Virginia Mullin
6. Fitness & relax – Monica Black
7. Joy Just For Her – Lorne halliday
8. Hanging Flowers – Ardith Mosiondz
Another wonderful show and we started planning for next year as the idea came to us during the day.
Thank you to all that came out and supported us. the funds raised will go into making more quilts for the Prayer Quilt Group to gift in 2014.