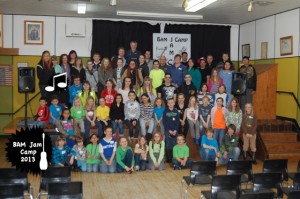 Submitted by:
Donna L D Burghart |
A PACKED HOUSE at the Bowsman Legion Hall Monday, March 25 & Tuesday March 26 set the scene for the 3rd Annual BAM Jam Camp.

Click any picture for a larger version.
53 participants took part in two days of intense instruction in fiddle, guitar, vocal & bass guitar.
From beginner to advanced classes, 10 instructors from across Canada came to Bowsman to enhance the musical talents of these budding artists. Instructors came from the Swan River Valley, Winnipeg, Thompson, Calgary, Saskatoon, Toronto & Halifax. We also had participants from various areas, including as far as Alberta.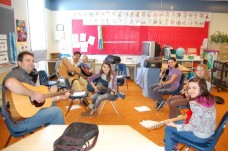 Guitar classes taught students to pick out tunes as well as chord to the fiddlers.
The Beginner 1 class was so skilled they could play with linked arms!!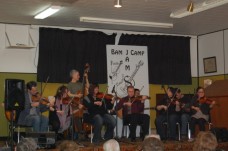 Monday night was the instructor concert which had the crowd wowed with the amazing talent that the BAM Jam Camp brought to our Valley.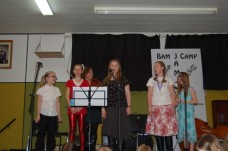 The year offered a new class of vocal which was a hit for the students as well as the crowd on Tuesday nights student showcase.
The students grand finale was an amazing collaboration of all the classes performing a well know traditional fiddle tune, Little Liza Jane.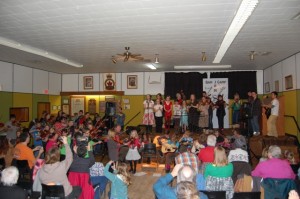 Congratulations to all the winners of our raffles, thanks to all who supported these raffles & many thanks to all of the sponsors who helped make BAM Jam Camp 2013 a huge success.

Special thanks go out to all of the hard working volunteers who put in countless hours to make this happen & bring such an amazing event to the Swan River Valley. You know who you are & you know how much you are appreciated. We can't wait to do it all again!!!