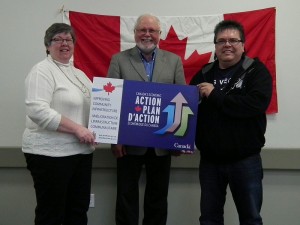 Canada's Economic
Action Plan
Media Release |
Robert Sopuck, Member of Parliament for Dauphin—Swan River—Marquette, on behalf of the Honourable Lynne Yelich, Minister of State for Western Economic Diversification, announced support for the
Swan Valley Farmers' Market under the Harper Government's Community Infrastructure Improvement Fund (CIIF).
"Our Government is pleased to support infrastructure projects across the country like the Swan Valley Farmers' Market," said MP Sopuck. "By making these investments in local infrastructure, we are helping boost economic activity while contributing to community growth and prosperity.
The Harper Government's investment of $10,000 will help improve the Swan Valley Farmers' Market in Swan River. The funding will go towards landscaping improvements to the market site, and the addition of lights and electrical outlets to the existing open-air structure. This investment will benefit market's merchants and customers, as well as the community through the creation of a multi-use public green space in the heart of Swan River.
"On behalf of the Swan Valley Farmers' Market, as well as our community, I would like to thank Western Economic Diversification for the CIIF investment," said Shirley Leask, Vice-President. "Our project mission is to create a community gathering place that provides opportunities for conversation, commerce, performances, celebration and play. This funding, as well as support from the community, will help achieve this goal. Further development of the Gathering Space will make it accessible to more groups and organizations, creating a healthy, strong and united community for all."
In Economic Action Plan 2012, the Harper Government announced further support to help communities across the country modernize their infrastructure. Our Government committed $150 million over two years for the Fund. The Fund supports projects that look to improve existing community infrastructure accessible for use by the public, such as community centres, recreational buildings, local arenas, cultural and other community facilities.
Since 2006, the Harper Government, through WD, has invested in job-creating, small- and medium-sized businesses, aerospace, marine and defence industries, and supported innovative entrepreneurs in pursuing emerging markets. By continuing to promote new economic opportunities, WD is helping to create jobs, economic growth, and long-term prosperity.