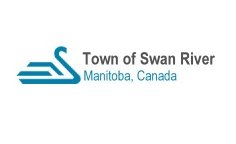 The Council of the Town of Swan River met on Tuesday, January 15th, 2013 at 7:30 p.m. in the Town Council Chambers with Mayor McKenzie presiding and Couillors Bobick, Jacobson, Friesen, Whyte, Delaurier and Sakal present.

Public Hearing:
Re-Zoning By-Law Amendment Public Hearing was called to order by Mayor McKenzie who advised that the purpose of the hearing was to hear representation for or against the following zoning amendment:
To amend the Town of Swan River Zoning By-Law be reclassifying an area described as Lots 3, 4 and 5, Block 4, Plan 21440 DLTO from "RM" Residential Multiple Family Zone to "CH" Commercial Highway Zone.
Jason Eisner was the only other person present for the Hearing. There being no other persons present who wished to speak regarding this matter the hearing was adjourned.
Minutes:
1. RESOLVED that the minutes of the January 2nd, 2013 regular meeting of Council be adopted as received.
Carried:
2. RESOLVED that the Agenda for the January 15th, 2013 regular meeting of Council be received.
Carried:
3. RESOLVED that By-Law No. 18/2012 being a By-Law of the Town of Swan River to amend the Town of Swan River Zoning By-Law No. 9/2004 reclassifying Lots 3, 4 & 5, Block 4, Plan 21440 DLTO from "RM" Multiple Family Zone to "CH" Commercial Highway Zone be read a second time.
Carried:
4. RESOLVED that the tender received from Imperial Oil (Doak's) for fuel in the amount of $199,206.00 be hereby approved.
Tabled
5. RESOLVED that Council authorize a grant in the amount of $5,423.00 to the Swan Valley Veterinary Services District Board.
Tabled
6. RESOLVED that Council approve a grant in the amount of $1,000.00 to the Swan Valley Crisis Centre to assist with operating expenditures.
Withdrawn
7. RESOLVED that the Superintendent of Works and Building Inspection Reports be received.
Carried:
8. RESOLVED that the Swan Valley Crisis Centre Inc. Financial Statements for the year ended March 31, 2012 be prepared by Pacak Kowal Hardie & Company be received.
Carried:
9. RESOLVED that Glen McKenzie and Duane Whyte be authorized to attend a Medical Services Committee meeting held in Minitonas, MB on January 10th, 2013.
Carried:
10. RESOLVED that the following 2013/2014 membership be approved for payment:
Federation of Canadian Municipalities $ 648.93
Carried:
11. RESOLVED that the December, 2012 R.C.M.P. Reports be received.
Carried:
12. RESOLVED that Fire Chief Darren Fedorchuk be authorized to attend the Mutual Aid Coordinator's Meeting being held on Thursday, February 7th, 2013 in Brandon, MB
Carried:
13. RESOLVED that the accounts as follows be hereby approved for payment.
(1) General Accounts from Cheque No. 12609 to No. 12671 for a total of $330,594.47
(2) Payroll Accounts from Cheque No. 3000 to No 3008 for a total of $73,482.35
Carried:
14. RESOLVED that the Mayor, Council, Chief Administrative Officer and Assistant Chief Administrative Officer be authorized to attend the G7 meeting be held in Minitonas, MB on February 4th, 2013.
Carried:
15. RESOLVED that Council authorize a grant in the amount of $ 400.00 to the Swan Valley Fine Arts Festival Association to encourage artistic growth and appreciation of the Performing Arts in the Swan Valley.
Carried:
16. RESOLVED that the Swan River Fire Department Call Report be received.
Carried:
17. RESOLVED that, pursuant to Section 152(3) of The Municipal Act, Council go into Committee and close the meeting to the public.
Carried:
18. RESOLVED that pursuant to Section 152(4) of The Municipal Act this meeting be reopened to the public.
Carried:
19. RESOLVED that this regular Meeting of Council now adjourn.
Carried: