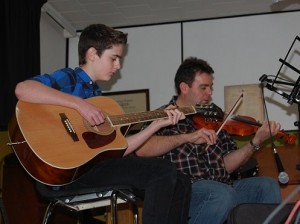 Submitted by:
Donna Burghart |
A benefit concert was held in Bowsman on January 26, 2013 with proceeds going to BAM Jam Camp 2013.
What an AMAZING Night!!! The concert was a great success.

Father/ Son duo Des & Desi Lagace gave the crowd an impressive performance.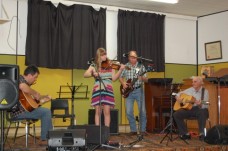 Click any picture for a larger version.
Tayler Fleming filled the dance floor with her beautiful music.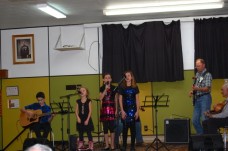 The Burghart Sister's did a gorgeous rendition of "Daddy's Hands"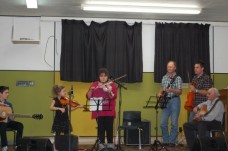 Emma Stevens took to the stage for the first time in the Bowsman Legion Hall. Layna Burghart joined her for a wonderful performance of "Rubber Dolly".

The entire group of performers ended the night with some amazing toe tapping tunes that gave the crowd a wonderful night to remember!
Pictured here are Desi Lagace, Des Lagace, Brittney Moore, Layna Burghart, Maclyn Burghart, Hadley Stinson. Jade Graham, Jessica Burghart, Leah Graham, Les Rosteski, Tayler Fleming & Gus Lagace.
Thanks so much to everyone who came out to support the BAM Jam Camp, to Des Lagace for once again hosting such an awesome night, it gets better each year! For the amazing back up band of Desi Lagace, Gus Lagace & Les Rosteski, they make the music come alive, & all the wonderful performers who come out to give there time & talent to help bring our BAM Jam Camp to the Valley.