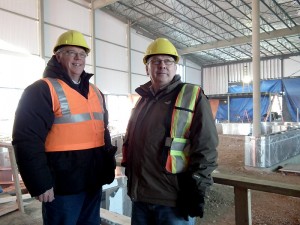 ValleyBiz Story |
ValleyBiz attended a tour of the Richardson Recreation and Wellness Centre with Premier Greg Selinger Thursday, January 17, 2013.
With work continuing inside, it was a good opportunity to see the progress first hand.
Pictured above, Premier Greg Selinger and
Town of Swan River Mayor Glen McKenzie
Click any picture for a larger version.
The interior is taking shape with many of the design elements in place and easily identified from the plans.
With a maximum depth of over 7 feet, the 4 lane, 25 metre lap pool meets standards for lifeguard training and provincial competitions.
A zero entry leisure pool links the lap pool, lazy river and tots pool. The leisure pool will feature a teacup water feature, spray arch and massage bench. The tots pool is 18″ deep and will feature a bubble floor, geysers and lemon drops.
The lazy river will feature a current that can be used for leisure or exercise resistance.
The large hot tub/swirl pool can be used for relaxation or therapeutic purposes. Anchors for a lift have been installed for increased access.
The tarped off area on the south side of the building has been left open to facilitate the installation of the 35 foot tall waterslide.
Project Manager, David Poole with Tower Engineering confirmed the project is on track for completion during the summer of 2013.