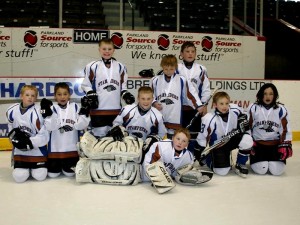 Submitted by:
Angela Mullin
Swan Valley Novice White team are the B-Side Champions of the Dauphin
Novice Tournament held November 23 to 25th 2012


Left to right: Braden Bartel, Cash Henkelman, Aiden Walker, Steven Arp,
Jack Mullin, Wyatt Rose, Will Munro, Tyan Mykula, Brooke Foster
Swan Valley defeated Ste Rose Royals on Friday Nov 25th by a score of 8-3, game star went to Steven Arp.
Swans 2nd game was against Brandon Red Wings Saturday morning, Swan was defeated in a close game 5-4, and game star was Will Munro. Saturday afternoon, the novice team faced Dauphin Roos, again losing a well matched game 6-4 & Cash Henkelman was named Swan Valleys game star. Sunday morning the Swan Valley Stamps faced Brandon Red wings once again in the B-side semis, this time a different out come, the Stamps won 6-4, Jack Mullin was named game star.
The B-side final saw the Swan River White novice team facing the Swan Valley Black novice team, a great game was played, with Swan River white edging out the Black team by a score of 4-3, Brooke Foster was named game star for this exciting game.