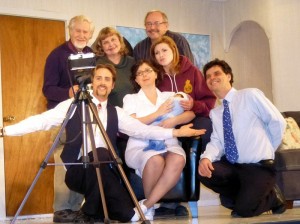 Submitted by:
Lloyd Gilchrist
The Valley Stage Players presented three performances of their comedy, "Squabbles" over this past weekend, November 23, 24, and 25.

Click any picture for a larger version.
Friday's opening night performance at the Veterans Community Hall was held as a dinner theatre in partnership with the Community Foundation of Swan Valley. A sold-out audience of approximately 250 found themselves laughing throughout the more-than-two-hour, two-act play.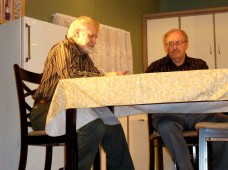 The Valley Stage Players hosted their own two performances of the play on Saturday night and Sunday afternoon. Again, two good-sized audiences enjoyed themselves through the laugh-filled, yet poignant story line.

The story was based on a suburban American couple living in the New York vicinity during the 1980's.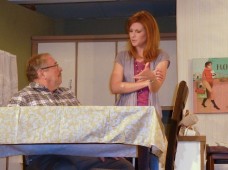 The young couple were providing domicile for the wife's father in their own home, when they also found themselves expecting a baby and providing a home for the husbands'mother because her house burned down. Added to the complications is the fact that the two parents have a previous history of disagreements.
The plot thickens!!
Cast of the show included Maria Kent, Paul Freed, Jeff Herbel, Charlene Rooks, Gord Watkins, Kathleen Freed,and Lloyd Gilchrist.
Director was Caren Dundas.