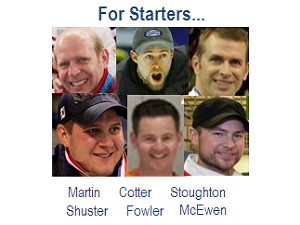 Submitted by:
Nelly Mills
If you want to see the best curlers in the world, but are not keen on sitting through a two hour game, (the games are only eight ends in the World Curling Tour events), why not come to the club for the second half of the game?
Fourteenth Annual
White's Drug Store Curling Classic
Swan River Curling Club this weekend,
Friday November 9, 2012 – starting at 10 am until
Monday November 12, 2012 playoff time
There are four draws every day. The games will pause for a Remembrance Day ceremony at 11am on Sunday.
Come an hour after the draw begins. Have a drink, or a coffee. Watch the winning shots. Order a meal in the curling clubroom, have a visit and rub shoulders with, oh, I dunno, Kevin Martin? Mike McEwen? Or how about the Gunner, Jason Gunnlaugson, who went to curl in Russia and is now curling for Jim Cotter? Or maybe last year's Saskatchewan champs, the mild-mannered team Manners.
Manitoba Champs, Rob Fowler will be here, and well, yah, Stoughton is coming too. Nothing like having a few world champions in the club. How about an Olympic Medalist… No, not Martin, we mean John Shuster (from Duluth Minnesota). He won a bronze in Turin in '06. Well, there's also the leading money winner from Europe, team Michel from Switzerland, and their arch rivals and countrymen, deCruz. The strong Saskatchewan teams are lining up for the $50,000 prize money… Laycock, Bryden, Hartung. And our loyal regulars, who know the ice the best, like Thompson's Sam Antila, and Willie Lyburn, provincial runner-up. This is going to be the best White's yet.
Day passes are only $5. Weekend passes are only $15.
Come for a visit, buy some refreshments. Enjoy the excitement. See you there.