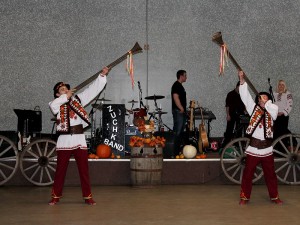 Submitted by:
Shirley Yaschyshyn
A sold out crowd of about 250 people attended the Harvest Celebration supper and dance hosted by the Shaker Misto Dance Club and the Benito Recreation Centre.

Click any picture for a larger version.
Following a delicious supper, the Dauphin Bratstva Dance club, Swan River Adult Dolyna dancers and the Shaker Misto Dance Club entertained the crowd with Ukrainian dancing. Everyone danced the night away with music by the Zuchkan Band from Foam Lake, SK.