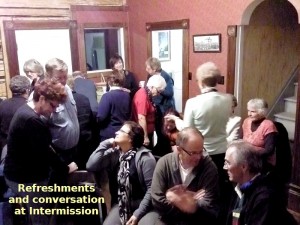 Submitted by:
Nelly Mills:
The Harley House certainly has grown into a hub of our community.
"Yah," said Moe Bowles, one of the volunteers central to there birth of the town's classic heritage house on Veterans Way.

"We have a couple of organizations in here, and people use it for meetings, and art classes. It's been used for studio space, and now the concerts are bringing in more and new folk. It's great."
The transformation of the Harley House into a House Concert venue has taken a few years.
"I think this is Home Routes' fourth House Concert at Harley House," said Nancy McLennan, a Valley House Concerts volunteer. The first was Sheesham and Lotus back in 2009, and since then, the space has been decorated and really improved. This was the best show yet, for ambiance. The audience really participated, it was a comfortable and intimate show."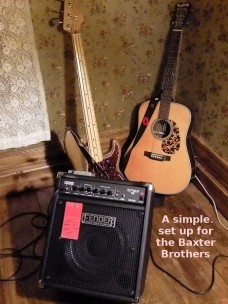 David Baxter, the lead man in the duo with his brother Michael stopped and commented on how good his guitar sounded in the room.
"The acoustics in here are fantastic," he said, and the audience clapped, probably with a bit of pride.
"I think we could squeeze forty in for a show," said Bowles, "but no much more than that".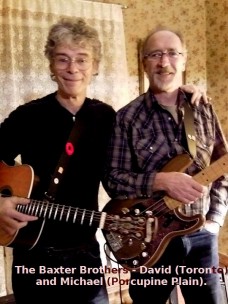 On Friday, Harley House set up a few tables and about thirty people sat around them and in chairs at the back. The set up was very comfortable, and the music was really fantastic.
"Before this tour, we'd never performed together in public," said Baxter, "but there is something about sibling harmony that really is amazing." And the audience agreed with hardy applause again.
The Baxters gave the audience two terrific sets of original material ranging from country and blues through cajun and oldtyme jazz styles, with only two cover tunes, one by the Beatles, and an encore of "Swingin'" by country artist John Anderson.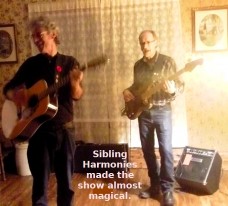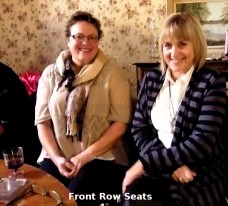 Everyone was pleased with the show, and of course with the Harley House.
"It is a great place for a show," said every smiling face in the audience.
The next Valley House Concert of the Home Routes tour is Saturday December 1 at Fabriculous featuring sea shanty duo/couple:
Patsy Thompson and Tony Latimer from BC.
Should be a hoot.
Go to Valley House Concerts on Facebook for further information.