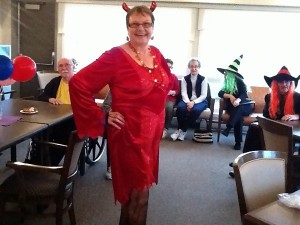 Submitted by: Bev Leach
The Services to Seniors Board hosted two anniversary teas to celebrate twenty-five years of Congregate Meal Programs being offered in two locations in Swan River.
Click any picture for a larger version.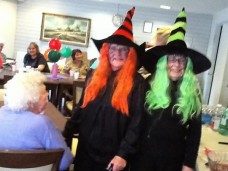 Meal Coordinator Betty Bresky delighted the assembled guests in her Halloween dress at the Fairhaven Anniversary tea.
Musical witches Carolle Cowan and Shirley Thompson delighted the guests with their piano duets and their costumes.
The teas were held on Monday, October 29, 2012 and Tuesday, October 30, 2012 at Rainbow Lodge and Fairview Apartments respectively. On Tuesday, October 30, former and present cooks at Fairhaven Apartments joined in celebrating the twenty-fifth anniversary of the meal program.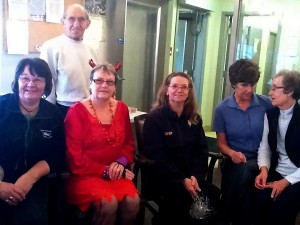 Pictured are Herbert Hoehne, Louise Assoignon, Betty Bresky, Shannon Basso, and Charyle Holland who cooked for over twenty years at Fairhaven. Joining them is Erna Betcher, one of the originators of the program in Swan River.

Services to Seniors board member Ida Theodore and past board member Carolle Cowan admire the lovely cake decorated by Theresa McKay.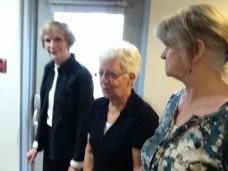 President Helen Russell, board member Helen Martinussen and Community Resource Coordinator Kay Markle watch the proceedings at Rainbow Lodge.
The Congregate Meal Program is one of many programs run by Services for Seniors whose purpose is to help seniors retain their independence in the community.