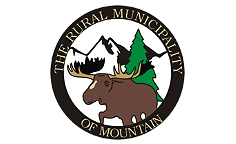 MINUTES OF THE REGULAR COUNCIL MEETING OF THE RURAL MUNICIPALITY OF MOUNTAIN HELD WEDNESDAY, OCTOBER 24TH, 2012 IN THE R.M. OF MOUNTAIN COUNCIL CHAMBERS IN BIRCH RIVER, MANITOBA.
Members Present:
Reeve: Robert Hanson
Councillors:
1 – Debbie Soloway
2 – Stephen Nadolney
3 – Dane Guignion
4 – Nelson Rusk
5 – Wayne Stockford
6 – Bert Fedoriw
CAO Robin Wiebe was present and acted as secretary.
1. Call to Order
The meeting was called to order at 10:00 A.M. by Reeve Robert Hanson, quorum being present.
2. Agenda/Minutes
2.1 Adoption of Agenda
BE IT RESOLVED THAT the Agenda for the October 24th, 2012 Regular Meeting of Council be adopted as presented.
CARRIED.
For 7 Against 0
2.2 Adoption of Minutes
BE IT RESOLVED THAT the Minutes of the Regular Meeting held October 10th, 2012 be adopted as presented, all requirements having been complied with.
CARRIED.
For 7 Against 0
3. Matters Arising from Minutes
4. By-Laws & Policies
4.1 Recreation By-Law No. 05/12
BE IT RESOLVED THAT By-Law #05/12, being a by-law regarding Public Recreation Commissions in the RM of Mountain, be given second reading.
CARRIED.
For 7 Against 0
5. Financial
5.1 PRFD Truck Repairs
BE IT RESOLVED THAT the RM of Mountain accept Invoice M38502 from Walinga Inc. as amended for repairs to the Pine River Fire Department pumper truck.
CARRIED.
For 7 Against 0
5.2 Accounts Payable
BE IT RESOLVED THAT the RM of Mountain accept the invoice from LUD Birch River for 35 hours mowing/equipment rental.
CARRIED.
For 7 Against 0
RESOLVED THAT Cheque Nos. 20121188 to 20121239 amounting to $32,011.71 be approved for payment.
CARRIED.
For 7 Against 0
5.3 AgriCard Application
BE IT RESOLVED THAT the Rural Municipality of Mountain approve the AgriCard application;
AND THAT the CAO be authorized to sign on behalf of the Municipality.
CARRIED.
For 7 Against 0
5.4 Utility Billing request from MB Housing
BE IT RESOLVED THAT the Rural Municipality of Mountain approve the request of MB Family Services & Housing regarding utility billing to renters versus landlords.
DEFEATED.
For 0 Against 7
5.5 Birch River Utility Public Hearing November 14th, 2012: Designate Presenter – CAO
6. Ward Reports & Work Orders
BE IT RESOLVED THAT the Rural Municipality of Mountain approve work orders #67/12 to 71/12.
CARRIED.
For 7 Against 0
7. Delegations/Petitions
7.1 1:00 pm – Dan Roberts, Water Resources Officer – Drainage License
7.2 2:00 pm Travis Parsons, Chief Engineer, WSB – BR WTP
8. General Business
8.1 RM Office Renovation: Res. No. 334/12
8.2 2012 RM Land Auction: Res. No. 335/12
8.3 Road Maintenance Tender: Res. No. 336/12
8.4 Northern Neighbors Roof: Res. No. 337/12
8.5 Personnel Committee Meeting October 10th, 2012: Res. Nos. 338 & 339
8.6 SCN MDSA Meeting October 11th, 2012: Reviewed
8.7 Taxes Added: Res. No. 340/12
8.8 Agreement for Payment of Taxes: Res. No. 341/12
8.9 CLPA Sale 67078/9 NE/NW 27-33-23W: Verify Legal Descriptions
8.10 CLPA Sale 67081 SW 27-33-23W; Sale 67082 NE 32-34-23W; Sale 67083 SW 34-33-23: Verify Legal Descriptions and Access to RM Roads
Councillor Stockford left the meeting after 8.10
8.11 Committee Appointments: Prepare for Next Meeting
8.12 Complaint – Cattle Grazing on RM Road Allowance: Issue Letter to Both Parties
8.13 Water & Wastewater School Attendance: Res. No. 342/12
8.14 AMM Convention November 26-29th, 2012: Meeting Scheduled with RCMP
8.15 Regular Council Meeting December 26th, 2012: Res. No. 343/12
BE IT RESOLVED THAT Council of the RM of Mountain accept the electrical quotation for Administration Building Renovation, attached as Schedule 'A', from Blaine Torfason.
CARRIED.
For 7 Against 0
BE IT RESOLVED THAT McKay Auction Service is hereby authorized to advertise for public auction the properties listed in Schedule 'A' attached hereto and conduct the sale;
AND FURTHER BE IT RESOLVED THAT the Terms and Conditions of Sale be adopted as attached.
CARRIED.
For 7 Against 0
BE IT RESOLVED THAT Council of the RM of Mountain accept the Road Maintenance Tender, attached as Schedule 'A', from Dave Livingston.
CARRIED.
For 7 Against 0
BE IT RESOLVED THAT Council of the Rural Municipality of Mountain hereby approve the amended Community Infrastructure Improvement Fund (CIIF) application for roof restoration at Northern Neighbors Community Centre as presented in Schedule 'A' attached.
CARRIED.
For 7 Against 0
BE IT RESOLVED THAT Council of the Rural Municipality of Mountain hereby hire Joanne Boychuk as Term Finance Clerk;
AND THAT wages and terms of employment be as stated in Schedule 'A' attached hereto.
CARRIED.
For 7 Against 0
BE IT RESOLVED THAT the Rural Municipality of Mountain approve the request for use of sick time as attached.
DEFEATED.
For 1 Against 5 Abstained 1
BE IT RESOLVED THAT the Rural Municipality of Mountain hereby add Business Tax to the Tax Roll as per Schedule 'A' attached hereto.
CARRIED.
For 7 Against 0
BE IT RESOLVED THAT Council of the Rural Municipality of Mountain hereby approve the Tax Sale Agreement for Payment of Taxes, Roll #209600, as recommended by TAXervice, attached hereto as Schedule 'A';
AND THAT the Reeve and CAO be authorized to sign on behalf of the Municipality.
CARRIED.
For 7 Against 0
BE IT RESOLVED THAT the Public Works Supervisor be authorized to attend the 2013 Water and Wastewater School at Red River College in Winnipeg, MB from February 25th, 2013 to March 1st, 2013;
AND THAT expenses be allowed for same.
CARRIED.
For 7 Against 0
BE IT RESOLVED THAT the Rural Municipality of Mountain hereby reschedule the December 26th, 2012 Regular Meeting of Council to December 31st, 2012.
CARRIED.
For 6 Against 0
9. Other Communications
9.1 Nicole Wainwright, EMO re: MIT billings: Ward One Will Pursue
9.2 Carolyn Gordon, Minitonas – Problem Beaver Program: AMM Announcement was Premature
9.3 RM of Piney – MMR Funding: Reviewed
9.4 Birch River School – Request for Support: Res. No. 344/12
9.5 G7 Meeting Minutes October 1st, 2012: Reviewed
9.6 LUD of Pine River Meeting Minutes October 12th, 2012: Reviewed
9.7 LUD of Mafeking Meeting Minutes October 12th, 2012: Reviewed
BE IT RESOLVED THAT the Rural Municipality of Mountain approve the request for financial support from Birch River School to attend WE Day in Winnipeg.
DEFEATED.
For 1 Against 5
10. Adjournment
BE IT RESOLVED THAT the meeting of Council of the Rural Municipality of Mountain be adjourned to meet again on November 14th, 2012.
The meeting adjourned at 4:30 p.m.
CARRIED.
For 6 Against 0