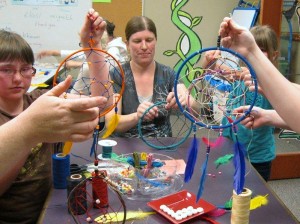 Submitted by:
Kamshi Kanavathy

The North-West Regional Library was abuzz on the evening of Thursday, June 21, 2012 as patrons enjoyed learning how to make dreamcatchers.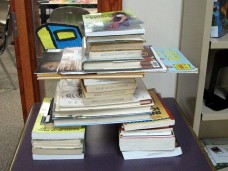 Participants were welcomed by an Inukshuk made out of books.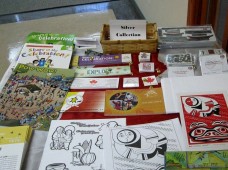 Free promotional Aboriginal Day materials such as 2D and 3D puzzles, games, colouring pages, tattoos, books and bookmarks were available; thanks to Indian and Northern Affairs Canada.
The library has a collection of books about aboriginal culture, issues, history and stories. Many of these books, some by aboriginal authors, were displayed. Patrons are encouraged to check these books out as they provide quite interesting, entertaining, humorous and educational reading.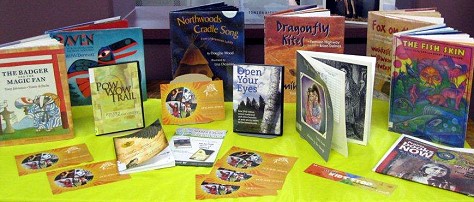 After being introduced to teachers, Marilyn Cook and Shirley Carriere, participants set to work covering their hoops with leather. It was serious business threading the inner webs while adding beads and feathers as decoration.
Marilyn Cook explained the "Seven Teachings"(wisdom, love, respect, bravery, honesty, humility, truth) for those who chose to make a seven cornered web.
It was a fun and rewarding experience for everyone as they watched their creativity unfold. A lovely atmosphere prevailed as participants helped and encouraged each other and younger participants.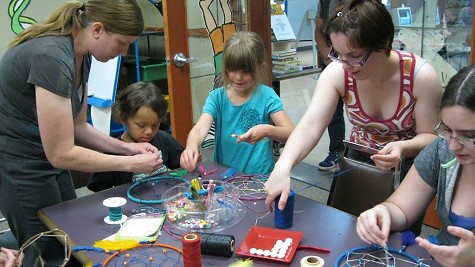 The hard work paid off and by the end of the evening, we had a collection of beautiful dreamcatchers! There will probably be a few more people with good dreams in the future!!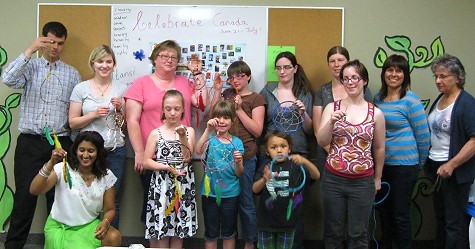 We are deeply grateful to Susan Ross, Joanne Saunders, Gordon Watkins and Lorna Munro for donating the necessary materials such as beads, feathers, bark, thread, hoops and leather, thereby making this workshop possible.