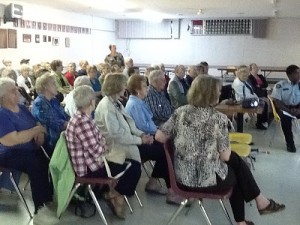 Submitted by: Bev Leach
On Thursday, June 14, 2012 fifty-seven seniors listened attentively as Royal Bank Manager Joe Synk and Constable Korey Ogungbemi informed them of potential problems which might be encountered when dealing with any type of financial transactions.
They spoke of Internet banking, credit card use, false charity scams, financial abuse by trusted individuals, and identity theft.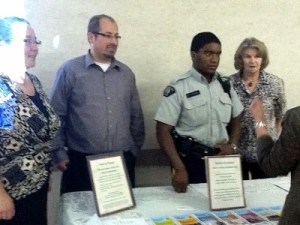 Carol Tripp, Investment Retirement Planner, Royal Bank Manager Joe Synk, Constable Korey Ogungbemi and Community Resource Coordinator Kay Markle meet with interested participants following the informative and very well-received presentation.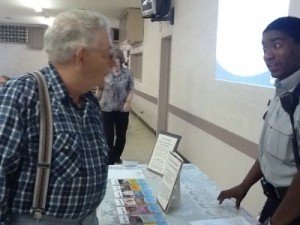 Arthur Hrappstead speaks to Constable Korey Ogungbemi following the presentation.