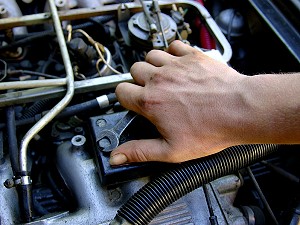 On May 11, 2012 Automotive Service Technician, Christopher Orton of Minitonas and employer Valley 1-Stop Auto Service were among 39 top apprentice graduates and their employers honoured at a special awards ceremony.
Province of Manitoba Media Release: May 11, 2012 |
The province's top 2011 apprenticeship graduates and their employers are being honoured today at a special awards ceremony and reception at the Winnipeg Convention Centre, Entrepreneurship, Training and Trade Minister Peter Bjornson has announced.
"Congratulations to all 39 graduates of Manitoba's apprenticeship program as they enter into rewarding careers in the skilled trades," said Bjornson. "Our skilled workforce is a tremendous asset for Manitoba. These new graduates have been trained to a high industry standard and I am confident their future opportunities are endless."
The 20th annual apprenticeship Highest Achievement Awards ceremony and reception is honouring Manitoba's top new journeypeople and their employers. The ceremony is also conferring special recognition awards: the Ron Krishka Memorial Award, given to the trades qualifier with the highest standing on the certification exam, and the Internationally Experienced Tradesperson Award, recognizing the highest-achieving internationally trained trades qualifier.
The role employers and instructors play in the development of the trade industry in Manitoba are being recognized during the awards ceremony, Bjornson said. Award recipients were chosen as best in their fields based on criteria that include on-the-job performance, classroom accomplishments and recognition from both employers and instructors.
Since 1999, the number of registered apprentices in Manitoba has more than doubled. There are over 55 apprenticeable trades leading to certification as a journeyperson.